Hospitals
The more serious medical cases are referred to one of the county hospitals. The hospital in Falun (Falu Lasarett) is the biggest hospital in the county and can provide mostly everything. Beside that, we also cooperate with the university clinics in Uppsala, Västerås and Stockholm.

Falu lasarett
As far back as 1695 an emergency hospital was established in Falun near the Falu Coppermine. It had only 12 beds and is considered to be the first emergency hospital in Sweden. Today this hospital is the centre of specialist health care in Dalarna and has a large number of specialities. It has some 450 beds distributed among 17 different clinics and wards. While the hospital have grown in size over the years, the commitment to the quality of that care continues to grow. Our 3.300 dedicated staff provide the patients with personalised service.
Clinics
Emergency
Anaesthesia
Paediatrics
Child- and youth psychiatry
Cardiology
Geriatrics and rehabilitation
Dermatology
Infection
Surgery
Gynaecology
Sex – gender
Internal medicine
Orthopaedics
Psychiatry
Rheumatology
Eye
Ear – nose – throat
Special departments and medical service
Central operation
Speech therapist
Radiology
Intensive care
Mammography
Unit for infectious diseases
Laboratory
Pathology
Hospital welfare officer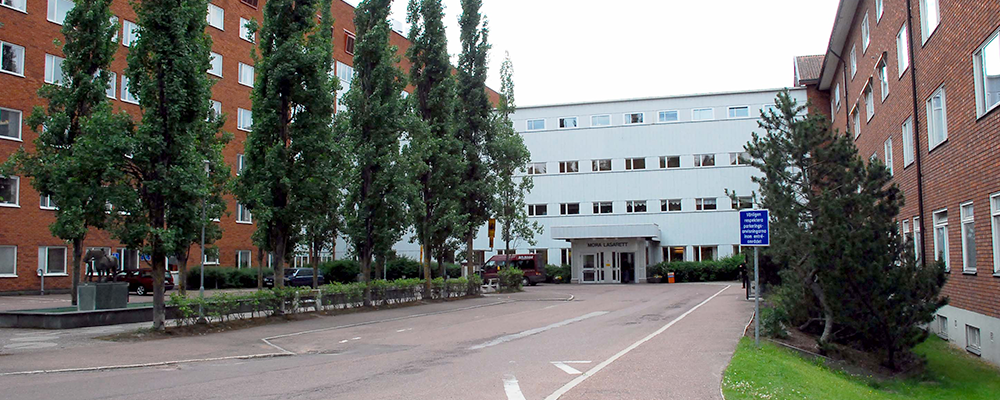 Mora lasarett
Mora hospital is an emergency hospital with 150 beds and 1000 staff for the population within the Siljan area, the north and west of Dalarna and it is also a part of the local health care system of the region together with the primary health care units in the area. The hospital is well equipped and has highly specialised resources due to the fact that it has a large geographical serving area and it´s patients often have a long way to travel. Most patients at Mora hospital get complete and sufficient treatment. The total number of inhabitants in its serving area is roughly 80.000 and 60.000 tourists.
Clinics
Internal medicine
Surgery
Gynaecology
Geriatrics
Orthopaedics
Paediatrics
Psychiatry
Eye
Ear-nose-throat
Special departments and medical service
Intensive care
Anaesthetics
Radiology
Paramedicine
Laboratory

Avesta lasarett
Avesta hospital was established 1922 and is today part of the local health care system of the south of Dalarna. Together with wards, out patient clinics and the 6 primary health care units it is serving some 40.000 inhabitants. The hospital has 45 beds, approximately 450 staff and is nicely situated by the river Dalälven with it´s beautiful nature and wildlife along it´s flow to the southeast.
Clinics and departments
Emergency department
Internal medicine clinic
Geriatric rehabilitation
Sleep laboratory
Pediatrics- and youth outpatient clinic
Dermatology outpatient clinic
Orthopedic outpatient clinic
Gynaecology outpatient clinic
Eye outpatient clinic
Family centre including mothercare and childcare
Medical service
Anaesthesia
Radiology
Operation
Endoscopy
Dialysis
Cardiology
Laboratory
Physiotherapy
Occupational therapy
Hospital welfare officer
Mental hospital Skönvik clinic in Säter

Ludvika lasarett
Ludvika hospital was established 1924 and is today with 40 beds a part of the local health care system of Västerbergslagen in the southwest of Dalarna. This area has roughly 37.000 inhabitants and they get their healthcare from the hospital clinics, outpatient clinics and the 7 primary health care units. The surroundings of Ludvika has many beautiful lakes, large forested areas and plenty of wildlife. In Ludvika the ABB Industries with 2400 employees and Ludvika health care 350 employees are the largest employers
Clinics and departments
Internal medicine
Geriatrics/rehabilitation clinic
Dermatology outpatient clinic
Surgery/orthopedic outpatient clinic
Day surgery clinic
Gynaecology outpatient clinic
Eye outpatient clinic
Ear-nose- throat outpatient clinic
Mothercare outpatient clinic
Childcare outpatient clinic
Medical service
Anaesthesia
Radiology
Operation
Endoscopy
Cardiology
Laboratory
Physiotherapy
Occupational therapy
Hospital welfare officer